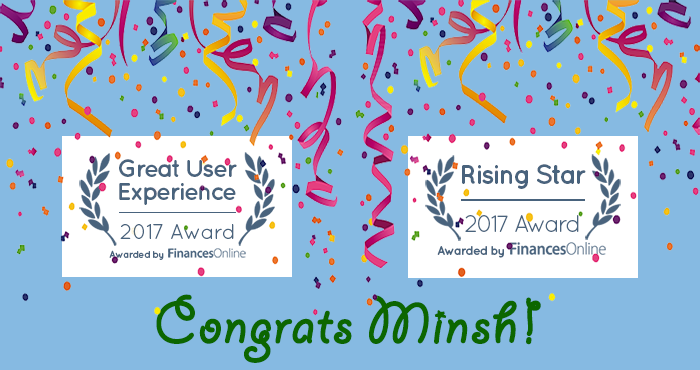 August 1st 2017 certainly was a good day for Minsh! First of all, it was the Swiss National Day, so a bit of a special moment for us and a great excuse to get together around a good cheese fondue.
But more than just this, August 1st was the day Minsh received not one but two awards from FinancesOnline!
For the few of you who don't know them, FinancesOnline is an independent review platform for all B2B, SaaS, and Financial tools out there. Their team of experts reviewed Minsh and decided to feature it as one of the top communications and collaboration tools of 2017!
Great User Experience 2017 Award
A big thank you to the professional reviewers from FinancesOnline who took the time to evaluate our demo app. They immediately noticed how easy it was to start using it without any tutorial or training. Our communication tool's sleek user interface and intuitive behaviour rewarded us with the Great User Experience 2017 Award.
Rising Star 2017 Award
This award is exclusively for newly discovered SaaS products that are getting a lot of attention from customers. We're especially proud to get distinguished with this award, especially since Minsh is indeed a fast growing business and an entirely bootstrapped company. Our clients particularly appreciate that we work hand-in-hand with each of them to deliver a product perfectly adapted to their unique needs, and provide a world-class support.
Please, have a look at FinancesOnline's review of Minsh, and feel free to add your own feedback!