We can customize the fields in your sign up form for you.
Mandatory fields
When a new user signs up, she needs to provide 4 elements that are mandatory:
Email
Full name
Username
Password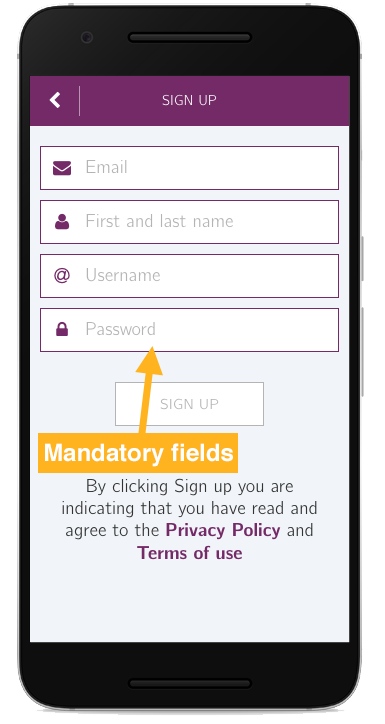 Custom sign up fields
In addition to these, and to fit your specific needs, we can add mandatory and optional fields to your sign up form. For instance, it could be: the user's company name, job title, city, etc. There is no limit in the number of fields, but try to minimize their number; the faster the sign up process, the less likely your users are to give up in the middle.
All these additional fields are provided to you when you need to make a decision on whether to grant or deny access to a new user. The fields are also always available in your admin dashboard.
Example: if your sign up form has the "Faculty" and "Website" additional fields, then you'll be able to see their content in the access request email as shown below.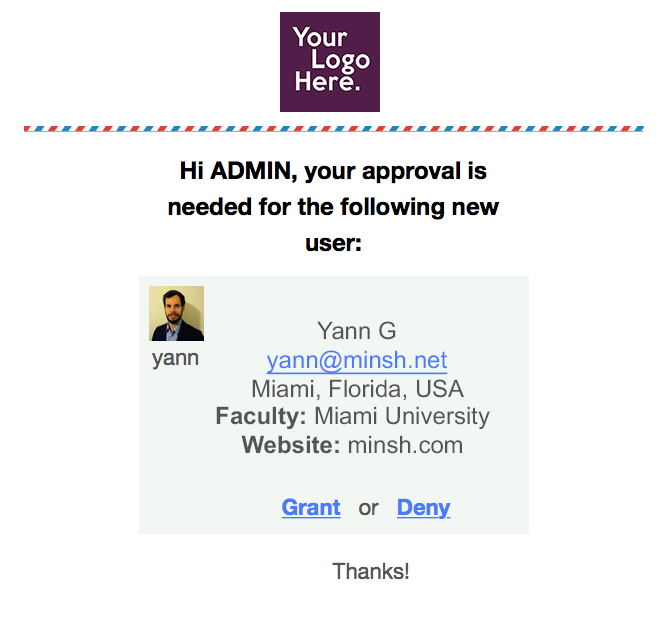 The same fields will also be visible at all times in your admin dashboard, as illustrated in the following image. If you want these custom fields to be displayed on your users' profile page too, it is possible. You can find out more on profile customization options here.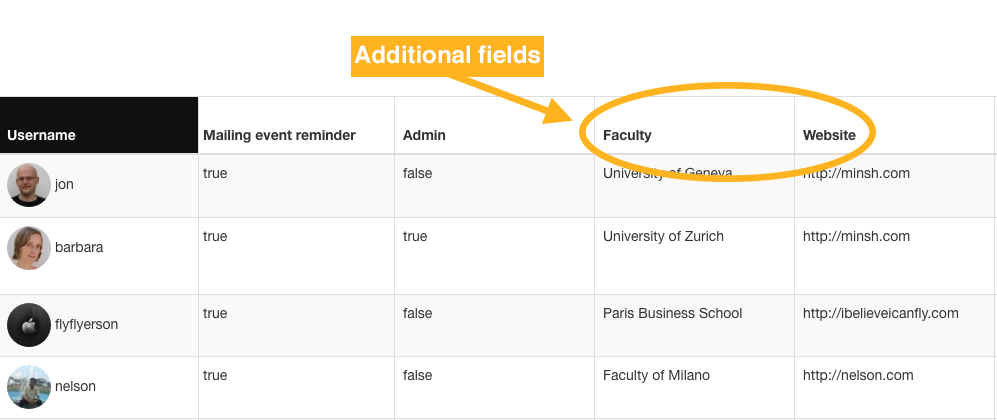 Types of inputs
There are 4 different types of inputs you can use:
a single line input,
a multiple line text area,
a date input
a dropdown menu (only a single option can be selected), or
a multi-selection dropdown menu.
Choose a group
If you're using the group feature in your app and would like to let your members choose one or more groups to adhere to while signing up, it's possible too.
For instance, imagine you run an alumni office and have chapters in different cities. If you have created one group for each chapter, it makes sense for your users to select which chapter they are part of when signing up.
We can allow new members to select one or several groups from your list during the sign up process. If you grant access to the new user, she will automatically be added to the group(s) she selected.
How to proceed
Ready to customize your sign up form? contact us and we'll help you get started.