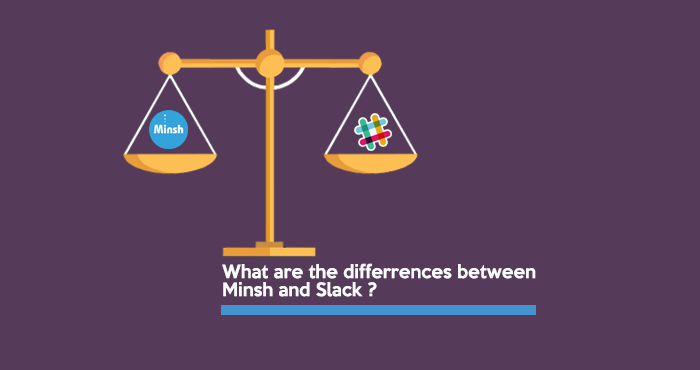 Slack and Minsh are two team communication tools. Where Slack is the world-famous app that everyone talks about, Minsh is its silent, white-labelled competitor. The truth is: you may have used Minsh in the past without even knowing it. In this article, we take a deeper look at the main differences between the two platforms, and help you assess which one suits your project best.
You better be looking for a messaging app
For a CXO, a manager, or any kind of team leader, being able to instantly reach one's team by way of push notifications sure is attractive. That's why instant messaging is at the heart of Minsh and Slack. Both companies have worked hard to provide the best chat interface possible: they offer the possibility to chat in private, with the whole team, or in smaller groups; both support @mentions (twitter-style), and both allow to share pictures, videos or documents.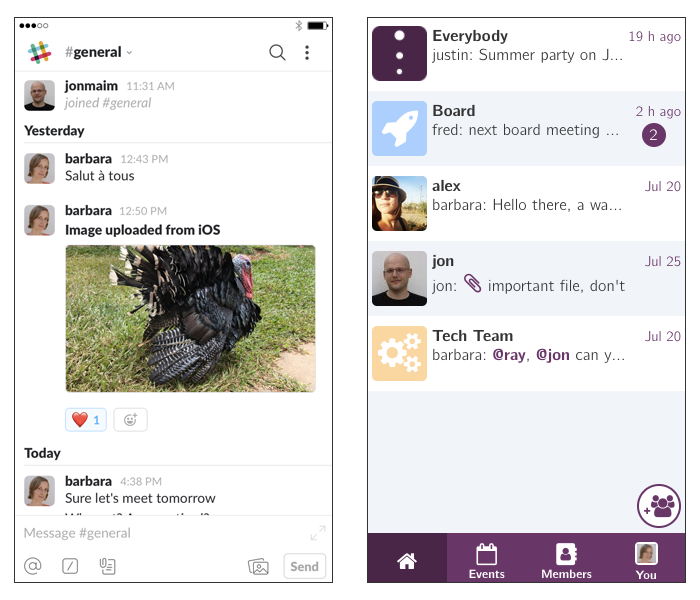 Messaging interface of Slack (left) and Minsh (right)

So what are the big differences? We have identified 5 of them, sorted from the less relevant one to the most important one:
1. Discussions
One big particularity of Slack as compared to standard messaging apps is that users are not allowed to comment on an old discussion (see the real reason Slack became a billion dollar company). In other words, you have to follow the stream and interact with the others in real-time, or accept the fact that you won't be able to add your 2 cents later on. In some ways, this is smart thinking: it forces everyone to stay very attentive to what is happening. However, it also has the drawback of interrupting people in their workflow, as they're scared of missing out on something. Minsh on the other hand has a more forgiving system: users can comment on a topic even long after it was posted. Discussions with the most recent comments always bubble up to the top, ensuring that other team members see the latest interactions. In that way, Minsh is cutting its users some slack (sorry about the bad pun, couldn't help myself).

Do you need your team to be constantly attentive and connected all the time?
YES go for Slack NO go for Minsh
2. User Interface
Before anything else, Slack is an instant messaging app. The many integrations it offers (more on this in point 3) all revolve around instant messaging and Slackbots. Creating an event in your calendar, sharing a file, or sending an email all rely on special instructions you give to Slack using a special character: "/". An example: if I want to use PayPal in Slack to send $5 to my teammate John Smith, I will have to write a message in Slack:
/ paypayl send $5 to @johmsmith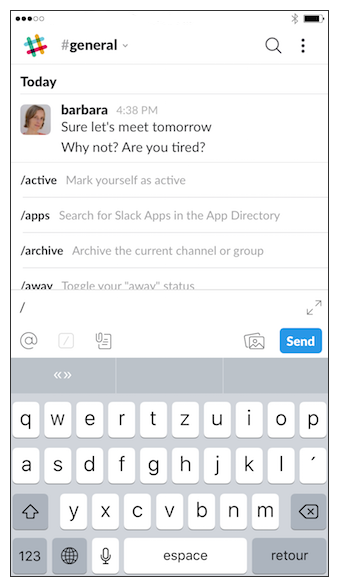 The slightly geeky but very powerful Slackbot instructions
On the one hand, I find this approach fantastic as it opens the door to endless possibilities of actions and instructions. No wonder Slack has so many integrations! On the other hand however, some people are less geeky than others, and using Slack to its full potential is not an option for them. Having to write instructions instead of simply pressing a button will not please older generations.
Although the chat is its central piece, Minsh is not limited to messaging. The app directly integrates some very important tools in a user-friendly interface:
A calendar – users can organise events, join them, comment on them, and give feedback afterwards
A searchable team directory – team members can search for specific names or skillsets and get in touch with each other
Customisable profile – each user has a profile page, composed of fields that can be customised by your organisation.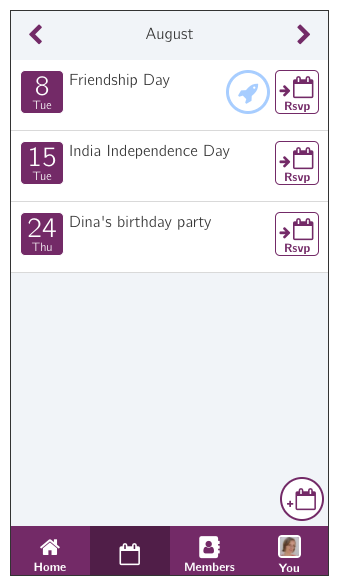 The more limited but user-friendly features of Minsh - here: the calendar
Are your team members on Twitter? Are they a bit geeky?
YES go for Slack NO go for Minsh
3. Integrations
The strength of Slack lies in the many integrations with other productivity tools it offers. As of 2017, it counts over 1,000 integrations, and anyone can develop their own. There's a whole ecosystem around Slack and its apps. Being the devil's advocate, I feel like as in many other aspects of Slack (see point 2), the way you get integrations to work is quite difficult for the average user and a bit geeky: find the appropriate app, install it, connect your app's account with Slack, give permissions, etc.
Looking at Minsh, it is far from providing 1,000 integrations and is limited to the basics: social media, calendar, Dropbox, iCloud. One good point though is that these integrations are directly handled by our team. You have nothing to install or set up. Just ask us. It makes things simpler for less geeky users. Also, it's interesting to note that due to the standalone nature of Minsh Apps, custom developments are on the table too, and all you need to do to get your own integration done by our team is ask.
Do you need your app to sync with many productivity tools?
YES go for Slack NO go for Minsh
Do you have a custom in-house tool you'd like to integrate with your app?
YES go for Minsh NO go for Slack
4. Budget
Slack offers a free version which allows any team to get started and immediately leverage the tool. the limitations of that plan are: only the 10,000 most recent messages are searchable, and the number of integrations is limited to 10. If one considers upgrading to a paid version, the service can quickly become expensive, depending on the size of the team. Starting at US$6.00 per month per user, Slack is more expensive than other collaborative platforms for large teams. Don't take me wrong, the free plan is an excellent deal. But just make sure you figure out how much Slack could potentially cost you, should you switch to a paid plan at a later stage.
Minsh provides a demo app to play with, but apart from this, it has no free trial. This is understandable, considering each organisation requires building a standalone, custom branded app and publishing it to the app stores. Interestingly, our pricing is not based on the number of users, but rather on the level of branding and customization required. Prices start at US$289.00 per month for a completely white-labelled app and regardless of the number of users (within reasonable limits).

Do you have a limited budget?
YES go for Minsh NO go for Slack
5. Branding
In my opinion, this is be the biggest difference between Slack and Minsh. Slack is one app. You adopt it, you download it, you create a team and ask all your people to download Slack and join your team.
Minsh Apps on the other hand are the white label version of Slack: each team gets its own standalone app, its own database, its own brand on the app stores.

Do you want your own app with your own brand?
YES go for Minsh NO go for Slack
Conclusion
Minsh is a white-label equivalent of Slack. In this article, we have pointed out the most important differences between the 2 solutions and asked questions to guide the reader towards the best solution for his or her specific case. The opinion expressed in this article is my own. As a member of the Minsh team, I wrote this article in the most objective way I could, with no intention to favor any solution. If this article is bothering you in any way, I would be very glad to further discuss it in the comments or by email.
| | Slack | Minsh |
| --- | --- | --- |
| Discussions | Live only; cannot comment on old posts | Comments possible at all times, most recent comments bubble up |
| User Interface | Geeky, entirely based on chat | Calendar, directory, profile, adapted to less tech-savvy users |
| Integrations | Many integrations but a bit geeky to install | Basic integrations built in-app, with possibility of custom developments |
| Budget for a team of 50 | starts at 300$/month (6$/user) | starts at 289$/month (regardless) |
| App Branding | Slack App in which organisation creates its own team | Standalone App with organisation's own brand |