The Members tab functions as a directory listing all the users in your app.
Sorting and geolocation
Members are sorted according to their distance from you. The app does not track people: it only takes your geolocation once, whenever you open it, but does not share it. It only uses your position to compute and display distances.
By knowing distances between members and not their exact position, opportunities to easily meet are created without invading on members' privacy.
As you scroll down, you can see members farther and farther away from you.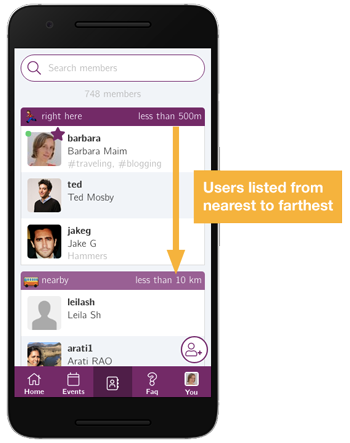 Information displayed
By default, the app displays 3 pieces of information for each user:
USERNAME
Full Name
Skills or interests
The 3rd line can be customized to display another element extracted from members' profile, like for instance, the company name or job title.
Anonymization

Depending on your requirements, the app can be configured to anonymize user information: in that case, elements such as a user's full name or email ID are only available to the app admins, but are not shared with other users. Additionally, mentions of precise distances (e.g. 500m away, 1 mile away, etc) can be hidden too to preserve users's privacy. Finally, it is also possible to set up the app so that the members tab and other users' profiles are entirely hidden. Contact us if you have such custom requirements.
Search for a member
At the top of the members tab, the search input allows you to find other users.
This feature is powerful and filters relevant people based on your input by looking up each user's profile in detail. For instance, if you look for the keyword "digital", the results will include members who mentioned the word "digital" anywhere in their profile.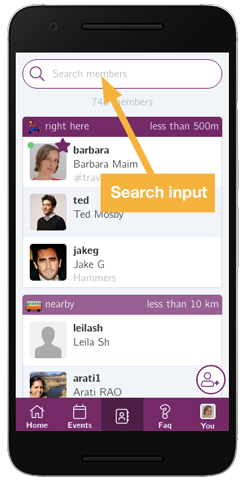 Obviously, the search functionality gets more and more interesting as members fill out their profile. This is why it is important to appropriately set up your app's sign up and profile pages. This way, users have the opportunity to fill in the information that is relevant to you. Learn more on how to customize your sign up form and profile page.
Invite new members
Last but not least, the button at the bottom-right of the member directory allows you to invite new members to join the app.